Janome Continental M17. Splitter ny TOP OF THE LINE-maskin.
Continental M17 har alt du kan tenke deg i en maskin og mye mer! Her får du 850 sømmer å velge i, over 1200 broderidesign. Den største broderiramma på markedet. Høy hastighet og presisjon og uante muligheter for quilting.
Det elegante utseendet ble skapt ved å fokusere på fargekombinasjoner, materialer og finish. Pulverlakkert aluminiumskropp, eleganse fra de metalliske komponentene og en følelse av dybde i den svarte berøringsskjermen. Basert på konseptet brukervennlighet, uttrykker Continental M17 funksjonell fortreffelighet og skjønnhet med en følelse av stabilitet og styrke.
Største broderiområde 280 x 460 mm
Største arbeidsområde
Syhastighet 1300 sting/min
Broderihastighet 1200 sting/min
To berøringsskjermer
Gjennomtenkt utvendig design
Flat-bed kombinasjonsmaskin
Nyheter
Tommelhjul
Selvåpnende topplock
Pop Up spolepinner
Smarte stingkort
Stingregulator (A.S.R)
Posisjonsmarkør
850 sømmer inkl. 13 knapphull
A.S.R stingregulator
"Floating" modus
Stoffguide
Grensesnittet på den midterste berøringsskjermen (inkludert knapper/bryter/skjerm/ratt) er arrangert slik at det føles som om det er én eneste horisontal skjerm. Dette gir et rent utseende og forbedrer brukervennligheten. Den midterste berøringsskjermen viser alltid søminnstillingene for den sømmen du har valgt. Den store trykkskjermen er plassert langt fra arbeidsområdet til høyre. Det er også lett å velge låsemodus, ettersom ikonet på berøringsskjermen er godt synlig. Berøringsskjermen er utrolig stor og gir en luksuriøs følelse med rask respons.
Mer info på norsk kommer snart! Vi har også lagt en del videosnutter på våre inspirasjonssider på Facebook og Klar, ferdig -sy! sin Facebookside - følg oss gjerne her for å se mer av dette vidunderet! 
Vi har maskinen på lager, og den kan sendes fraktfritt i hele Norge. 
Klar, ferdig - sy! har god kompetanse på Janome symaskiner og hjelper deg gjerne om du lurer på noe både før og etter kjøp. Symaskinene våre har 5 års garanti. Vi sender symaskiner fraktfritt. Du får med gratis innføring i maskinen når du handler fra oss.
Janome is proud to introduce the Next Generation Combo machine. Combining the top features of our most decorated machines to maximize your creative potential. The largest sewing area in the industry matched the largest embroidery space. High-Definition Quilting, and the Fastest Sewing speeds, are just a few of the 100 reasons to love this new model.The 10" High-definition color touch screen, plus ergonomically located line of sight screen, make stitch changes and embroidery easy and enjoyable. Introducing new features such as the Thumbwheel function means you can delicately control the needle position to finish those intricate sewing projects.
Over 1,200 built-in embroidery designs and the largest embroidery hoop in the industry at 30" opens up a whole new world of design capabilities. Five included embroidery hoops to use with built-in programs from monogramming to sashiko and everything in between. Janome original features such as AcuFeed, QuiltBlockAdvisor, and Artistic Digitizer are included. Let the Continental M17 take you to the highest level of your creative abilities.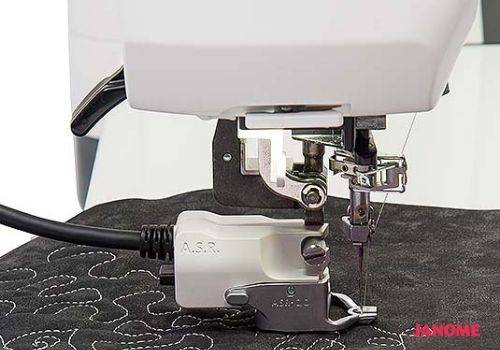 AcuStitch Regulator (A.S.R.)
A Janome first! Our new stitch regulation system comes standard with the CM17 and includes four feet; closed-toe, open-toe, clear view, and the exclusive Ruler Work foot so that all of your free-motion needs are covered. With the added benefit of being able to set the sensitivity of the sensor; you can adjust the Regulation as your skills build.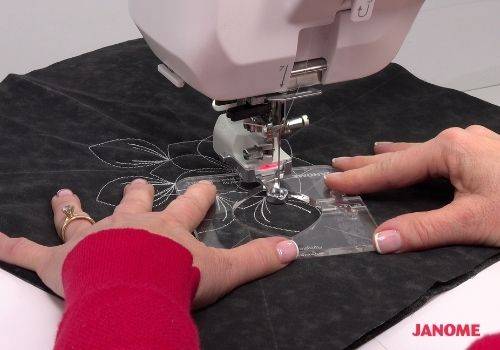 Ruler Work Mode
Expand your quilting options and take advantage of the wide array of precision templates on the market for ruler-guided quilting. Engage the Ruler Work foot to safely follow along the guiding edge of precision cut templates. Achieve beautiful and consistent quilting results previously only available to longarm quilters.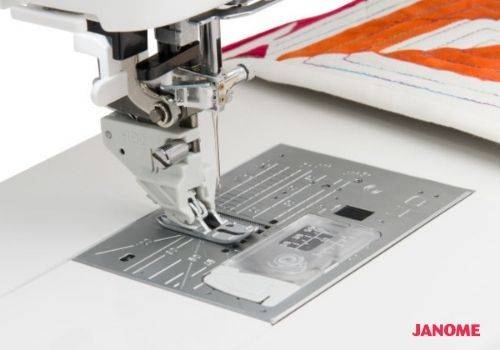 Professional Grade Needleplate, HP foot & HP2 foot
Utilize these narrow-gauge industrial-type feet for curves and precise topstitching. They provide excellent ease of control and superior visibility. They are sized perfectly for creating 1/4" seams, achieving accurate stitches, and perfect starts on any type of fabric.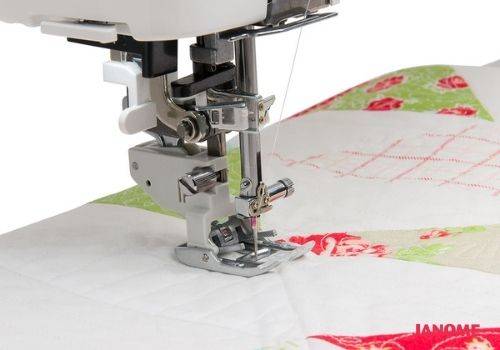 AcuFeed Flex Fabric Plus
Our AcuFeed Layered Fabric Feeding System has long been legendary in the sewing and quilting world for its exceptional precision and power. We've taken it to the next level with AcuFeed Flex Plus. The system is still removable, but adding and removing it from the machine has become more advanced, adding another layer of reliability and control. After attaching the AcuFeed foot, touch the AcuFeed icon on your screen to engage or disengage the dedicated motor designed specifically for this feature!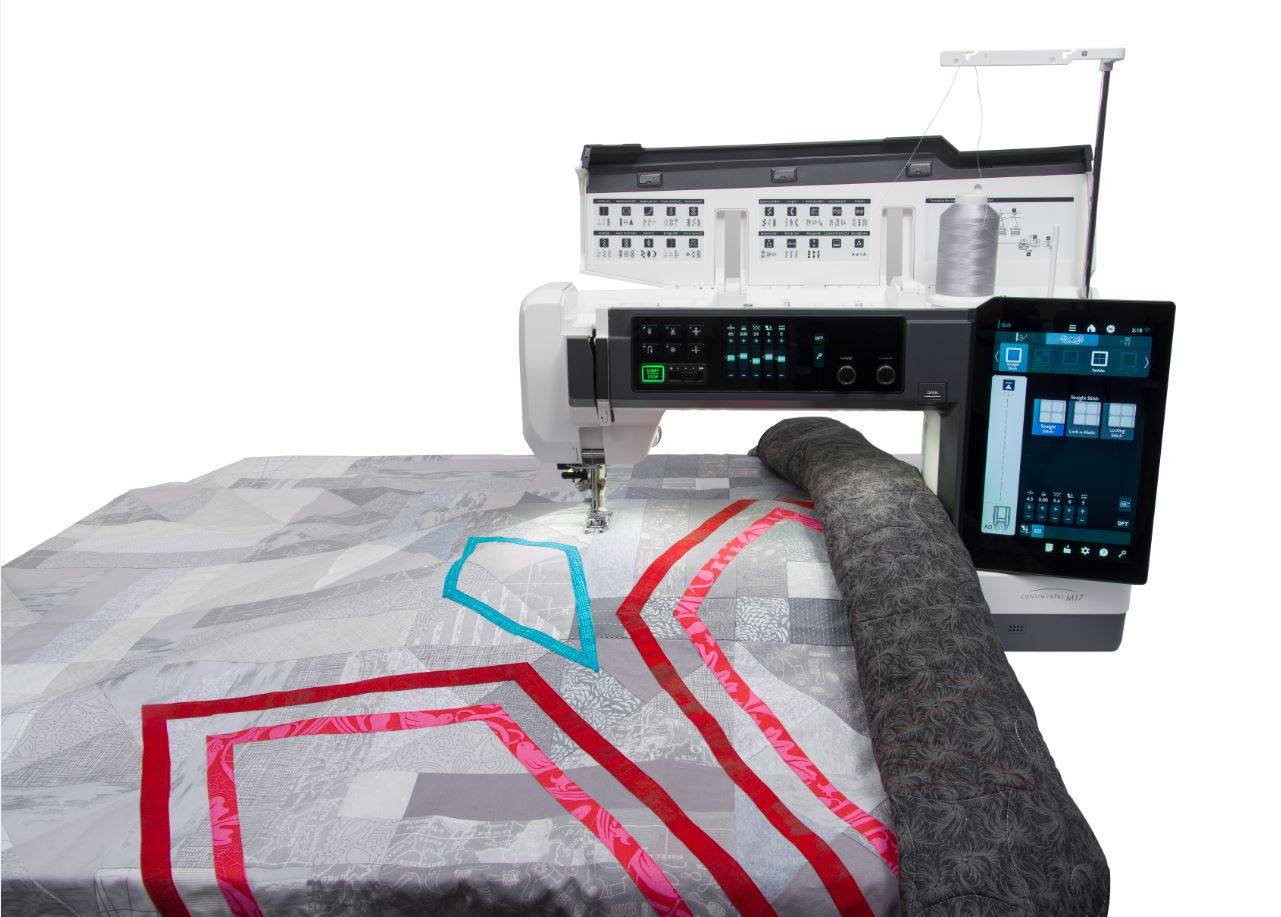 Ample Work area and Ergonomic Design
The seamless, heavy-duty powder-coated, all-metal flatbed offers an uninterrupted, large sewing area with 13.5 inches (343mm) to the right of the needle. With a 5.51 inch (140mm) workspace height and 3.15" of space above the needle plate, you'll complete any sewing project with ease.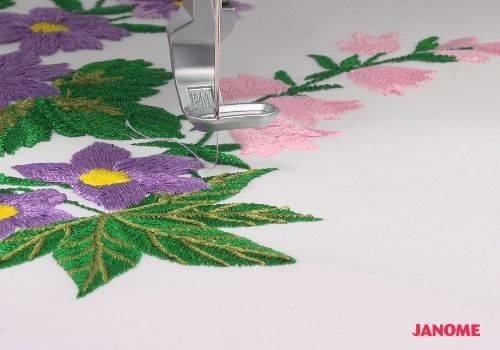 More Built-in Embroidery!
1,230 built-in embroidery designs are standard, including Designer Collections, ten embroidery fonts, and In-the-Hoop projects that will keep you engaged and creative for hours. In addition, the included Embroidery Link app will allow you to customize and edit those same designs, adding and removing elements to create one-of-a-kind embroidery that your whole family will enjoy. With so many standard stitches and embroidery designs, your creativity is unlimited!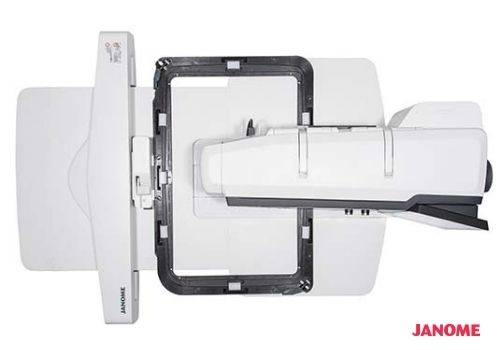 Extra-Large Embroidery Area
Our largest hoops and embroidery area ever! Our RE46d Hoop offers 11.3" x 18.2" of the embroidery area. Created with Carbon Fiber infused plastic, this large hoop is 10X stronger than metal! No other machine can offer such a large area and guarantee the stability and precision of Janome embroidery, even when embroidering at speeds up to 1200spm. Four included hoops have been created with a new easy-to-hoop lever system and hoop size detection. Bonus Quilt Kit consists of the AcuFil hoop, an excellent tool for quilting in the hoop.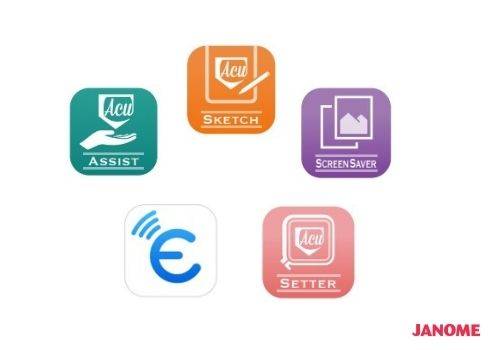 Wirelessly Interact With your Embroidery and Sewing Functions
Your options to learn about and use the CM17 are limitless. Use the interactive AcuAssist to become proficient with its intuitive and vast features. With Embroidery Link, you can resize, redesign, and layout embroidery without sitting at your machine. And, with AcuSetter, AcuSketch, and the Screensaver app, you can take the personalization of your machine and embroidery capabilities to the next level.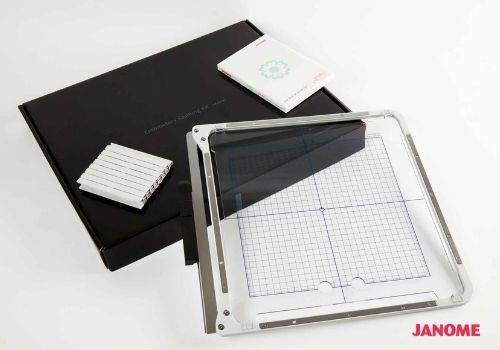 Quilting Hoop ASQ27d
The included quilting hoop is 10.6" x 10.6" (270mm x 270mm). It includes Janome's original magnetic hoop without an internal frame, allowing more accurate alignment of quilt embroidery. When used with the AcuSetter app, you will have effortlessly continuous embroidery quilting.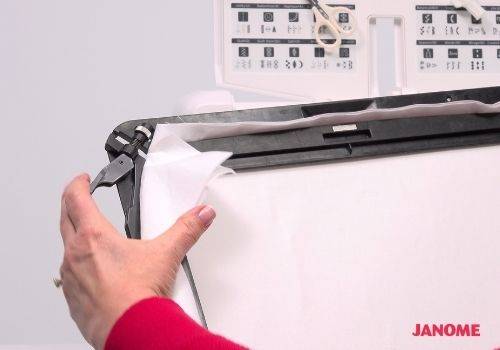 Easy Tightening Lever on Embroidery Hoops
If you found that you sometimes needed a third hand to tighten the screws on embroidery hoops, you'll love the Easy Tightening Lever! Set your fabric and stabilizer, then flip the lever to lock it into place. One easy step to perfectly taught hooping.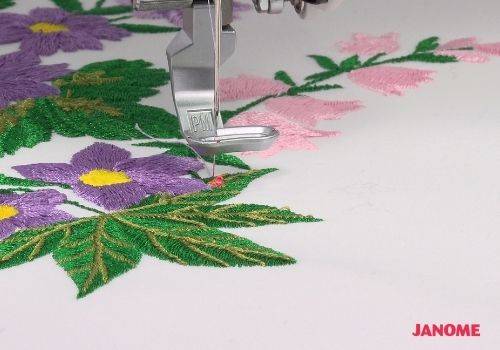 Embroidery Positioning Marker
Using the newest embroidery foot from Janome, the laser aligning feature can show the position of your needle on the fabric below. This feature lets you see exactly where your needle will strike before stitching begins for extreme precision. Perfect for designs that need to be placed in precisely the correct position. Use the laser with the baste function to ensure your design is exactly where you want it to be.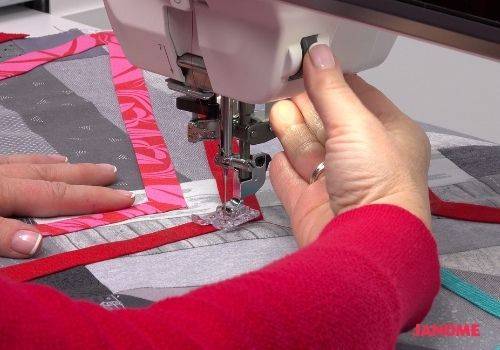 Thumb Wheel
Located to the right of the needle. This industry-first is a great convenience feature that lets you raise or lower the needle without having to reach over to the handwheel.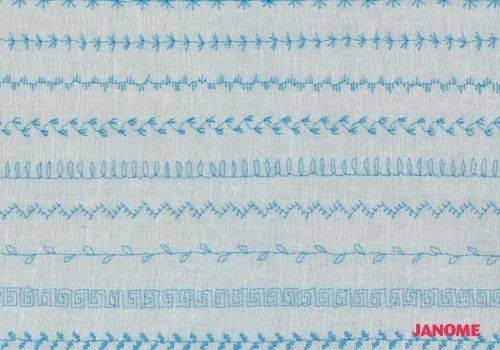 More Stitches!
The Continental M17 includes an amazing array of built-in stitches and embroidery designs. You'll find 850 built-in stitches, including 13 different styles of buttonholes (and with Stitch Composer your stitch count is infinite). Three fonts provide variety for decorative stitch monogramming.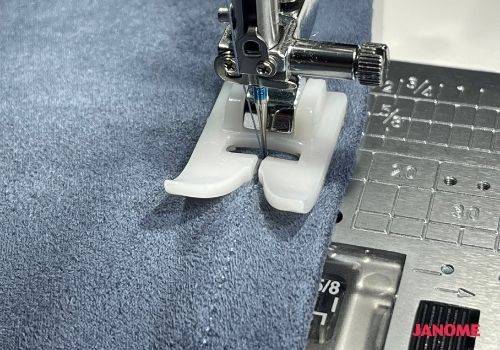 Floating Mode
While in floating mode, the Continental M17 will not extend full pressure to the presser foot while feeding fabric. This will protect delicate or high pile fabrics like velvet.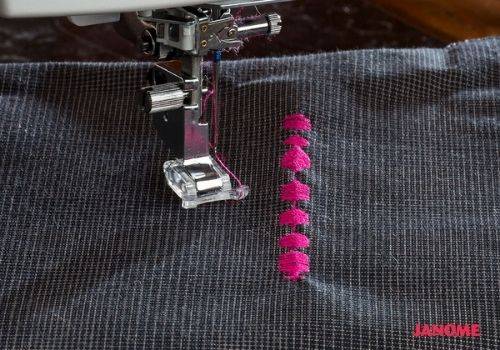 Metal Cloth Guide
The Metal Cloth Guide is a standard accessory on this machine that attaches to the bobbin cover and extends the entire length of the sewing machine bed to the right. Use this guide to make perfectly even wide hems.
Technology & Engineering
The Continental M17 is packed with advanced features and industry firsts to create the ultimate sewing/embroidery experience, from the Easy Open Top Cover with Magnetic Storage to the Two Advanced LED Touchscreens. SFS-I Intelligent Feed system, Optical Bobbin Sensor, and PC Software, including Stitch Composer and AcuStitch! Check out all the design and development that has gone into this machine.
Kommentarer